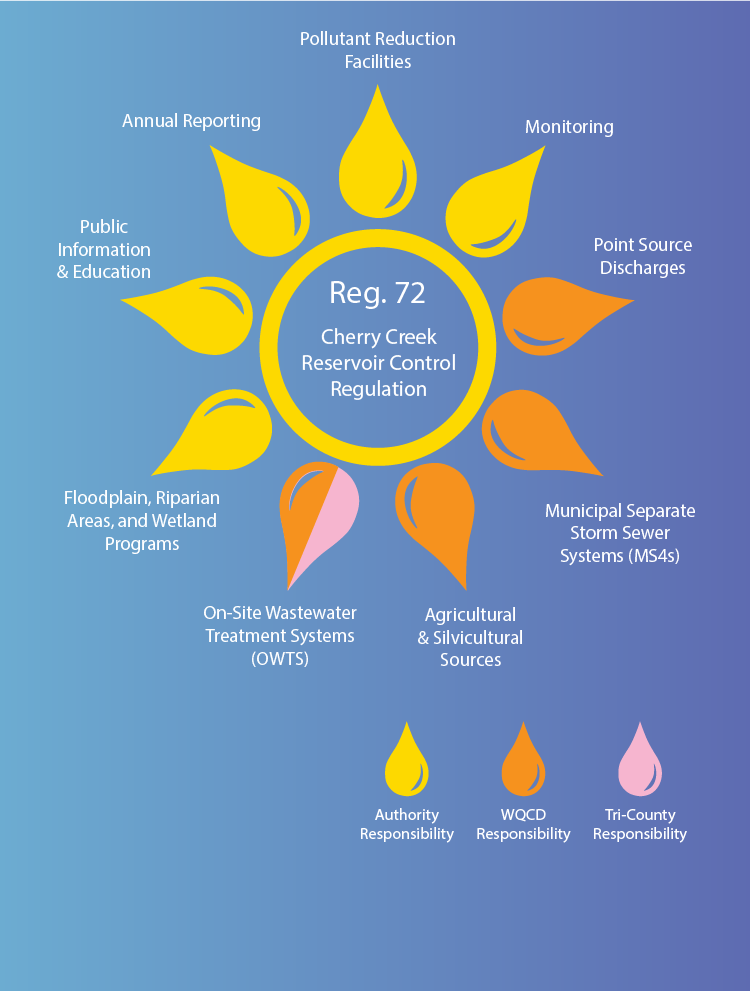 Regulation 72 Responsibilities
The activities under Regulation 72 are assigned to different entities.
CCBWQA
CCBWQA is to construct Pollutant Reduction Facilities, implement a public information and education program, and conduct water quality monitoring. CCBWQA may collaborate on floodplain, riparian corridor, conservation easements, and wetlands projects.CCBWQA must report annually to the Commission and Division on activities required under Regulation 72.
Colorado Water Quality Control Division
The Colorado Water Quality Control Division (Division) must include phosphorus effluent limits in discharge permits issued to wastewater facilities, industrial process wastewater facilities, drinking water treatment facilities, and in Notices of Authorization issued to reclaimed water treaters. In addition, special Regulation 72 requirements must be included in all basin Municipal Separate Storm Sewer System (MS4) permits. The Division is also directed to collaborate with agricultural and silvicultural owners/operators in pursuing incentives, grants, and cooperative programs to study and control nonpoint sources, as well as collaborate with local governments to encourage connection of existing OWTS and new development to central wastewater facilities.
Tri-County Health
Tri-County Health Department cannot allow construction of new Onsite Wastewater Treatment Systems in the 100-year floodplain.
Partners
Water quality in the Cherry Creek Watershed continues to meet beneficial uses due to the efforts of many entities.